I came it to lend a hand in the design of this kitchen right as the unfinished cabinets were being installed.  Decisions had to be made and there was no time to spare.  First in order was to find out if the counters had been cut yet, thankfully not.  I really wanted to mix up the colors of the counter tops since it is so much visual space and weight in the room.  So we canceled the all black plan and went with honed black granite for the surrounding counter tops and a limestone colored Cesar stone for the island that would tie in the adjacent limestone fireplace in the family room.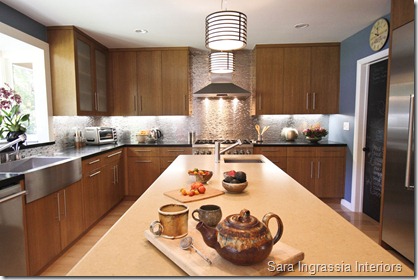 Next in line was finding in stock tile to use for the backsplash.  My client and I were off to the tile showroom to see what we could find.  We fell in love with this "woven" pattern stainless steel tile and amazingly there was enough in stock for us and we had it in in 2 days!  I love how it reflects the light and how the metal balances with the wood.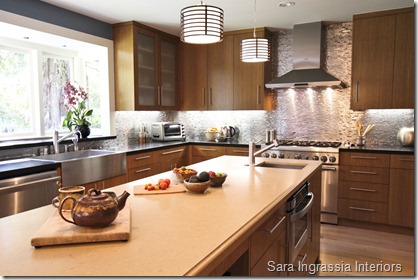 The blue Dunn Edwards paint color tied the whole kitchen together along with the attached breakfast room.  I chose a medium tone wood stain for the cabinets.  We played around with the finisher for a few hours trying different things, and in the end came up with a stain that pulled out the grain in the wood with the darker almost black stain.  He then wiped off the remaining stain leaving the beautiful walnut color on the majority of the cabinet faces.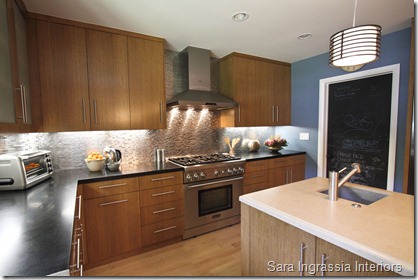 We chose a simple stainless bar style hardware for function and for pulling the wood cabinets together with the stainless appliances, sink, and backsplash. To balance the black counters on the other side of the room, we painted the door to the laundry room with black chalkboard paint.  It's a great fun touch for a great fun family!