This is a home I did for a family I met while on vacation in Palm Springs.  Funny how things turn out that we live not far from each other and they were renovating a mid century modern house for their active family.
Needless to say Palm Springs was an easy choice for our inspiration.  Having relocated from the east coast my clients wanted to mix it up a little, and I encouraged them to embrace the vibe of their new west coast surroundings.  The project called for color! I painted the far wall of the living room a rich apple green. The yellow doors are my favorite part of the whole design.  On the outside they are painted orange. It's a little "tell" of what's coming.  To keep things clutter free, there is a "mom office" hidden behind the existing closet doors.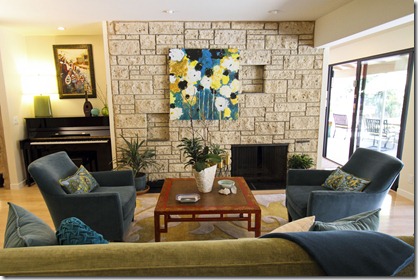 This house has a very open floor plan.  The large wall of rock fireplace has the family room on one side, the living room on the other.  Both are open to the entry, the dining room and the kitchen.  I came up with a palate of orange, green, turquoise, and yellow and repeated those colors around the rooms.  I used a linen white on the other walls to balance all the color.  I flipped colors from room to room accenting cool colors in the living room and warm colors in the family room.  Two treasured possessions from their east coast roots were the piano and grandfather clock.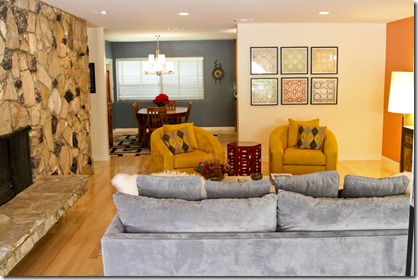 I chose a vibrant orange for the wall in the family room that "bookends" the green wall in the living room.  In any room that has a fireplace competing for attention with a television, swivel chairs save the day.  These are covered in a durable yellow ultra suede.  Yes, they do provide much entertainment to the children who love to spin in them, but they are up to the task.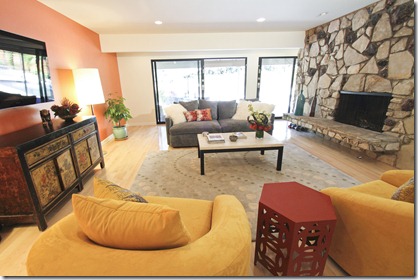 The original fireplace is so Dean Martin, but that's what we love about it!  It's always best to go with a large design feature instead of trying to pretend that it's not there, which of course is impossible anyway.  This is a project that we are taking in phases, next phase….drapery, stay tuned